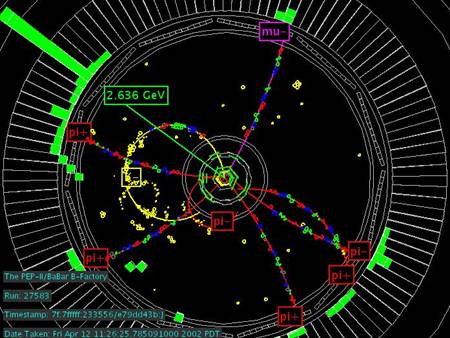 So what are they really doing? I'm no physicist (if I were, I'd know that heavy ion physics is more practical in theory, but not as applicable as what is going down at the LHC) ...but I'm told it all has something to do with gluons and quarks. A quark is a generic type of physical particle that interacts via the strong force and that forms one of the two basic constituents of matter, the other being the lepton. Quarks come in different flavors which are assigned a baryon number, an internal property which differentiates quarks from leptons. They are also assigned a vanishing lepton number which represents the number of leptons minus the number of antileptons. Quarks have a spin too, but we'll get to that later. Leptons are sub atomic particles composed of the electron, the muon and the tauon (or tau particle).
In particle physics the strong force (a. k. a. ~ strong interaction or color force) as well as their associated neutrinos (electron neutrino, muon neutrino, and tau neutrino) holds quarks and gluons together to form protons and neutrons. Gluons are the elementary particles that cause quarks to interact and are indirectly responsible for binding protons and neutrons together in atomic nuclei. But every so often you get a strange quark. This is a second generation quark with a strangeness of -1, like Napoleon Bonaparte. A strangelet is a hypothetical object consisting of a bound state of roughly equal numbers of up, down and strange quarks. The perceived dangers in the worldwide hunt for dark matter directly reference strangelets and how they might convert all the atoms of all the nuclei on the Earth into a mass of strange matter.

AFC Ouest

San Diegeau Éclairs 12-4 LaDainian Tomlinson took a lot of criticism for standing on the sidelines during the AFC Championship. It's bullshit and it will not deter 90% of fantasy owners with the #1 pick from selecting him. When he is on, his game is silkier than an MC Solaar rhyme. If WR Chris Chambers could get to a Pro Bowl under Nick Saban with Gus Frerrote at QB, I have to imagine, he'll play at least close to that level as he should be fully acquainted with this offense. CB Antonio Cromartie should unleash his own Reign of Terror on most QBs he faces. Norv has no excuses (now that referee Gerry Austin is retired) with Ted Cotrell running this defense.

Denveur Bronceaux 7-9 Mike Shanahan is burning through running backs like a Parisien does cigarettes. If RB Selvin Young isn't the answer, QB Jay Cutler could resemble Jean Moulin trying to quickly mobilize his new crop of WRs while Brandon Marshall learns to act like someone who has advanced beyond La Petite Academy. LB Boss Bailey will play along brother, CB Champ Bailey for the first time on the same NFL roster. The defense also gets a boost as safeties Marlon McCree and Marquand Manuel come in (at the expense of 15 year veteran John Lynch) to beef up an already potent secondary. I believe that rookie OT Ryan Clady has what it takes to play as big as André René Roussimoff.

Oakterre Agresseurs 5-11 Owner Al Davis is to Raiders fans what Louis Vuitton is to French Jews. Since their Super Bowl run this team compiled an NFL-worst 19-61 record. Former #1 pick QB JaMarcus Russell earned millions last year and barely even had to speak to the media. He has a lot more to answer for now. Rookie phenom RB Darren McFadden may have the coolest nickname ever and will attempt to be the big play threat for this offense. Free agent DeAngelo Hall will line up opposite Nnamdi Asomugha to form arguably the best CB tandem in the league. LB Thomas Howard is a beast and should have gone to the Pro Bowl last season. Davis' open criticism of head coach, Lane Kiffin, does enough to sustain this period of instability and will ultimately lead the team to collapse like Jean Van de Velde in the '99 British Open.

Kansas City Chefs 4-10 Brodie Croyle? Really? To Herm Edwards it is as logical in principle as the Maginot Line. It's not the first time I've questioned Herm. He's as perplexing as a Marcel Marceau performance. Second year WR Dwayne Bowe was 5 yards shy of 1000 yards last season and provides a passing threat that guys like Marc Boerigter and Samie Parker didn't. Three rookies have been penciled in as starters, most notably DT Glenn Dorsey. Chan Gailey makes a return to the NFL to resuscitate an offense that ranked last in most categories. A lot will rest on the shoulders of RB Larry Johnson and how well his line blocks for him. Just in case, Herm has his video resume updated.