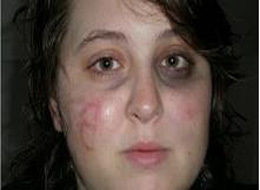 So, the whole thing was a hoax?


Police say a campaign volunteer confessed to making up a story that a mugger attacked her and cut the letter B in her face after seeing her McCain bumper sticker.
What kind of fucking world is this? ...making up a story about a 6 foot 4 black dude pinning you down and carving a 'B' into your face for being a McCain supporter?
Is this the most disgusting form of rascism we've seen this campaign or what?
Dear
Ashley Todd
,
You fucking asshole. It's understandable that you are upset about the fact that your candidate sucks. You are frustrated that your political party put forward such a pathetic character to represent your beliefs, of which you clearly care deeply about... apparently, to the point of insanity.
But did you have to fulfill every non-Texan's stereotype about the horrific rascism, ignorance, and apparent lunacy of the average Texan (Austin residents excluded)?
Furthermore, are you even aware of the hatefullness that your actions imply? That you'd fictionalize such a horrific act despite having to endure self-mutilation to accomplish your ruse?
This is futile... I don't have the ability to craft a letter that could possibly express my frustration.
I hope that you have plenty of time in jail with plenty of nice incarcirated African-American women that can explain the folly of your actions to you.
Best of luck douchebag.